Best Nail Trimmers for French Bulldogs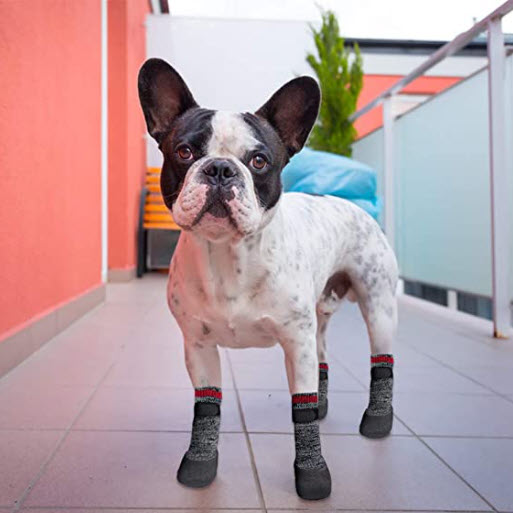 French Bulldogs are not the most active of dogs. Which means they require regular nail trim nails since their nails are unlikely to wear down on their own. And though the pitter patter of their paws may be cute, overgrown nails are not healthy for the loveable canines. To get your frenchie started off on the right paw, we look at some of the best nail trimmers for french bulldogs.
One thing most dog parents share is that they are hesitant to trim their dog's nails. They worry about accidentally cutting the quick and making them bleed. These are valid concerns and one thar need to be addressed. But unlike some of the old style dog nail trimmers many have come a long way. For this reason many of us take our dog to a groomer.
Above is the Best Selling Quiet Trimmer on Sale on Amazon <<
But dogs like French Bulldogs are easy to bath at home and with the right tools you can trim their nails at home and save money along the way.
🐶 This article may contain affiliate links, at no extra cost to you, and we thank you for your support. 🐾
Such as the grinders that are quiet and have with safety features today.
What are the Types of Dog Nail Trimmers
Dog nail trimmers come in many different styles including Pliers-Style, Guillotine-Style, Scissor-Style, and Nail Grinders. Along with styles there are also sizes. The size of the nail trimmer should match the size of the dog. And since we are talking about French Bulldogs we are going to go for the best small dog nail trimmers we can find.
I found that a grinder style works best for me and my Frenchie but this article will give you some information on some of the best dog nail trimming options.
Safe, Effective & Precise Trimming: This dog nail grinder uses an advanced diamond drum bit grinder is recommended by veterinarians and grooming professionals, painlessly and precisely trim your pet's nails anywhere.
The trimmer features an adjustable, low-high speed design powerful enough support heavy grinding. And with 3 ports to match small, medium, or large pets, simply choose the appropriate port and speed depending on your pet's size and nail hardness.
---
Dog Nail Trimming Tips For Taking Care Of Your French Bulldogs Nails
Here are some simple tips to make trimming your French Bulldog's nails an easier task.
Get Your Frenchie Calm
First things first – before you undertake trimming your dog's' nails you can take them for a walk or play in the park. This will help to burn off excess energy so it is easier to trim their nails.
Calming Treats
If your frenchie tends to get a little anxious then you may consider using some CBD or calming treats for dogs.
Next you will want to spread out your French Bulldog's feet. You will want to look for dirt and debris. Do your best to clean them off before you start trimming.
Play Dog Music
Create a safe space for your dog. Play calming music will both help you and your Frenchie relax.
Make Your Dog Secure
Place a non slip mat for you dog to stand on or you can wrap them in a towel exposing one paw at a time. This will give you more control and keep them secure when trimming their nails.
When you are clipping your Frenchie's front nails, hold your forearm over his neck to prevent her from lifting his head and squirming around. And if your French Bulldog is very anxious, you might try putting him on his side to gently hold him down.
Now grab your dog nail trimmers. You will want to carefully cut off the tip of each nail at a slight angle. Clip it right before the point where your French Bulldog's nail begins to curl.
Stop Your Dogs Nails Bleeding – A Must Have Item to Have on Hand
CAUTION: Accidents happen, and as safe as we are sometimes a dog's nails may bleed.  To get a dogs bleeding nails to stop fast you will need to have styptic powder on hand. This miracle powder works like a charm. I stops the pain by covering the nerve and put the stop the the blood quickly.
Besides trimming my dogs nails I pack styptic powder in my dogs first aid travel bag should he nick a nail when we are walking or hiking.
You will of course want to take great care to avoid cutting the quick. The quick is the vein that runs into the nail and if you cut it accidentally, it bleeds a lot.
If you do happen to accidentally cut into the quick, you will want to apply some styptic powder to stop bleeding. If you do choose to cut your Frenchie's nails I would definitely recommend having this on hand and close by before cutting. Here's a great option:
After you have cut your French Bulldog's nails, use a dog nail file to smooth out edges.
What Is The Best Dog Nail Trimmer For Your French Bulldog?
Let's take a deeper look at the best dog nail trimmer options for you to safely trim your French Bulldog's nails.
I remembered seeing a commercial for the Dog Nail Grinder. I researched these nail grinders and they mentioned that you didn't have to worry about the clipping and cutting the quick. After watching the commercial again I ended up purchasing one. And since dogs are curious creatures you can place the grinder on the floor and them look and sniff at it.
Following the directions start the nail grinder away from your dog. Then once you are securely holding your pup then begin grinding each nail for 5 seconds at a time as suggested.
Take it slowly, you can always trim a little more once you get comfortable with the length of your French Bulldogs nails.
Boshel Safety Dog Nail Clippers
Click To Learn More About The Boshel Safety Dog Nail Clippers <<
Boshel safety nail clippers for dogs are scissor style trimmers that work similar to scissors. The blades have small indentations where you will want to position your dog's nails for cutting. The Boshel nail clipper is is easy to hold and has a safety stop design to help avoid deep cuts.
These trimmers are actually produced by a surgical tool manufacturer which makes this a high quality product without the high price tag. Scissor style trimmers are good for larger dogs as it allows a good amount of force but they are also good for small dogs with thick nails
---
Rechargeable Dog Nail Grinder for Quiet Nail Trimming
Trim your french bulldog's nails from the comfort of your home with this dog nail grinder. This dog nail grinder will do the trimming of medium and small canines.
This dog nail grinder for small dogs features a diamond grinder head that allows you to reduce the excessive length of the canine's nails effortlessly.
With it's whisper-quiet technology, this nail grinder allows timid pets to feel at ease during the nail grooming procedure. In addition the nail trimmers have an LED light to ensure precise and safe nail grooming. In-built LED light will help you spot a quick in dog's' nail.
This dog nail grinder for medium size dogs works also for small and large canines as it has low and high speeds. This dog nail trimmer could be used as dog toenail grinder. It also features a double-sided cap for a safe and pain-free grinding experience with any nail type.
And you won't need to worry about running out of battery power as this dog nail grinder works up to 11 hours on a single charge. Because it's cordless, you can use this electric dog nail grinder from anywhere. Find the place where your pet feels safe and comfy and finally do that trimming thing without stress.
---
Guillotine-Style – Resco Original Deluxe Dog Nail Trimmer
Price on Amazon
The Resco Original Deluxe Dog nail trimmer began manufacturing in 1937 right here in the USA. They are guillotine nail trimmer and work with a clean cut. After checking the length of your dog's nail you simply place the nail through a hole in the trimmer. Once you squeeze the handle the blade will close to trim off the end of the nail.
The trimmers extremely sharp micro blades ensure your Frenchie's nails won't splinter or split during trimming. The best part is that Resco offers a 100% lifetime warranty and sells replacement blades for their trimmer.
Professional Pet Nail Trimmer with Light
One of the best rated Scissor Style nail trimmer is the Pawsitivity Professional Nail Trimmer. These clippers are strong, sharp and durable. And they have a light that makes it easier to see the bloodline in your dog's nails.
They feature a very sharp stainless steel double bladed cutter and the tension spring allows for a smooth cut every time. The Pawsitivity nail trimmer is light weight with a nonslip grip handle for comfort and control and a quick stop guard for safety.
LED light illuminates the bloodline in nails and claws for easier and safer cutting experience! Note: LED light may have less illumination effects on dark and black nails.

The cutting blade made of high-grade stainless steel, re-designed widened blade for all sizes of dogs and cats!

Nail storage box prevents the irregular disperse of the cutting experience, easy to collect unwanted nails after the entire cutting experience.PJPP

Built-in retractable nail polish file located on the handle make your cutting experience complete!

Durable and comfortable Handle: the handle made of innovative animal human friendly, and durable materials with human engineering design elements, impossible to break!
Conclusion – Best Dog Nail Trimmers for French Bulldogs
When it comes to the choosing the best nail trimmers for French Bulldogs – take into these considerations using dog nail clippers versus a nail grinder for dogs. One is your confidence level when use dog nail trimmers, and second is the personality of your dog.
Clippers are not for the squeamish. If you are confident in measuring and making a clean cut then great. For those who are a little unsure then using a grinder with a guard may be the best option.
Once you pick the method for you, you can them trim your dogs nails on a regular basis. And save a ton of money while doing so.
Recommends: Best Dog Training Program
Our favorite: The Dunbar Academy Training Program. If you want a happy and obedient dog, this is one of the best online dog training programs available today!  You can get the first month free using dunbar.info/RescueDogHappiness <
We also created a QR Code for you to use as well, you can download the image below to share it.