Best Crates for Medium Dogs
You got the pup of your dreams, and now it's time to gather all the gear you need for your new canine. When buying the essentials like a strong harness and a comfy bed, make sure not to overlook the best crates for medium dogs.
| SiteStripe Image | Title | Buy |
| --- | --- | --- |
| | Best Metal Crate. Easy & Quick Set Up. Metal dog crate with divider for medium dogs. | Buy on Amazon |
| | Portable soft sided crate for home and travel. Windows and ventilation for medium dogs | Buy on Amazon |
| | Airline adaptable medium crate for home and travel. Easy to open latch for quick access | Buy on Amazon |
| | Petsfit travel crate dogs up to 19"H. Inc top door. Sturdy and easy set up with washable soft pad & mesh windows for ventilation | Buy on Amazon |
| | Deluxe Crate by Pet Gear features rounded corner, integrated wheels, pull handle for easy movement. Bolster pad and carry/storage bag | Buy on Amazon |
Crates are ideal for training and giving your dog a secure place to sleep at night. And all the amazing places that you'll travel with your dog. To help you pick the right crate for pup below is a few of the types of crates and ones with the highest ratings.
Our Picks of the Best Crates for Medium Size Dogs
If your dog is a medium size breed, or if you need a medium dog crate to meet his specific needs, then we got you covered. As we have put together 5 of the best crates for medium dogs available today.
This luxury crate is made by Pet Gear namely the Other Door. The deluxe crate features heavy duty blow-mold plastic with steel inserts for strength. And it has rounded corners which means there are no sharp edges to damage your home or car.
Give your dog access with all four doors which offer accessibility from any angle. And the garage-style side door stays up and out of the way when open. All four of the doors can be closed for security. And the two side doors offering quick entry and exit for your pup. In addition the top door allows you to give your dog his food and water easily.
Built-in handle and wheels to make moving the crate from room to room effortless
The crate can be folded flat for easy storage and portability
A travel bag that utilizes the crate's wheels makes traveling a breeze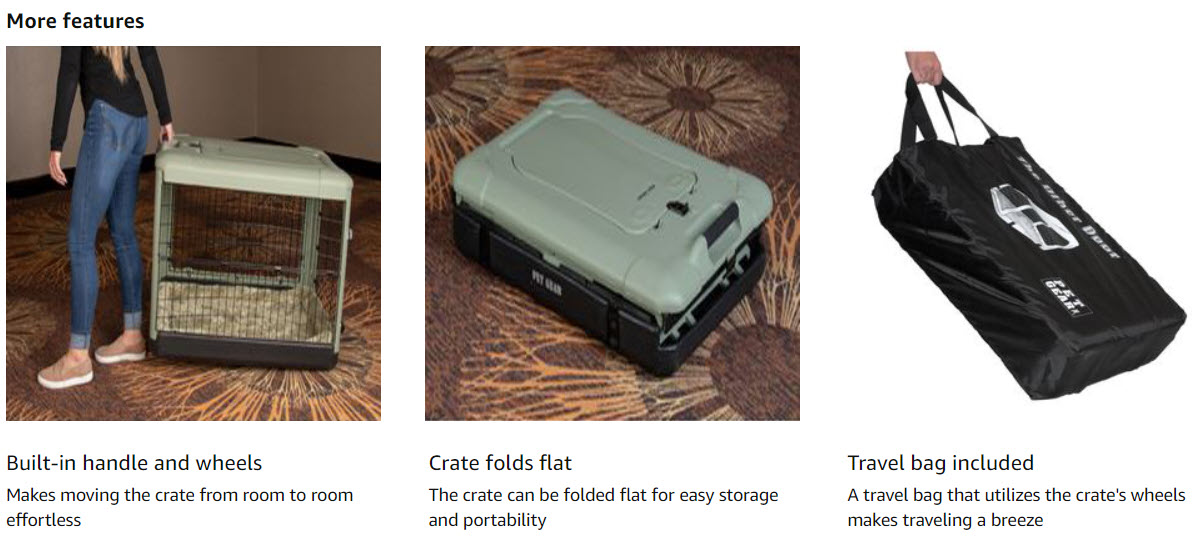 ---
Integrated wheels and pull handle allow for easy movement from room to room.  Bolster pad and carry/storage bag are included. Measures 36.5″L x 24.5″W x 27.5″H.
Airline Petmate Ultra Vari Kennel
If you're looking for a travel crate, this is the perfect option for your needs. This heavy-duty plastic crate includes wire vents for ventilation. As well as a raised interior for your pet's comfort, tie-down strap holes, and more.Plus it meets most airline cargo specifications. This makes it the perfect option if you're planning a pet-friendly holiday.
The dog crate is for medium dogs 20-30 lbs, Measures: 28″ an it comes in a variety of other sizes to get the perfect fit for small and medium dogs.
The crate is available in a variety of sizes, depending on your pet's breed and size. The largest is 40 inches in height, allowing large dogs to stand up comfortably in the crate. It's available in a neutral taupe and black color that should meet all your aesthetic needs as well. And it's made with heavy duty recycled plastic material and features an easy-open front latch to quickly access pets.
---
Best Soft Side Crates for Medium Dogs With the Petsfit Travel Pet Home
If you want softer alternative to a metal or plastic crate, then this is the perfect option for you. Constructed around an iron pipe frame, this crate is made of a soft cloth material and is sure to keep your pup as comfortable as possible. Additionally, the crate comes with three mesh sides to allow for both ventilation and visibility. It also has lockable metal zippers to ensure the crate keeps its shape.
It also includes a removable and washable soft pad that your pet can sleep on. The fabric is odorless, and the crate is designed to be foldable and easily portable.
This is perfect for both travel (the crate fits into cars and RVs perfectly) and as a comfortable crate that your pet can spend time in while at home. It is available in three sizes, allowing you to choose based on your pet's needs and size requirements.
---
Petsfit Soft Portable Dog Crate for Medium Dogs
This dome-shaped crate is the perfect option for a comfortable travel crate if you're planning to go on a road trip with your dog. There are two doors plus a mesh window that ensures visibility and air circulation. And the floor  of the crate is waterproof and it comes complete with a soft mattress.
The crate itself is made of a soft Oxford fabric and comes with a soft handle you can use to carry it around. It is easily foldable and portable and serves as both a travel crate and the perfect in-home hideaway for nervous dogs looking for a space to cuddle up in. Additionally, it's a comfortable way to crate train your pet and comes with a 1-year warranty.
---
MidWest Homes Dog Crates for Medium Size Dogs
MidWest  iCrate Single Door & Double Door Folding Metal Dog Crates – Fully Equipped
We love this crate for medium dogs. As it is complete with roller feet to protect your floor, free divider panel, durable dog tray, carrying handle and Midwest quality guarantee 1 year warranty.
This crate kit is available in lots of sizes to fit small, medium and large dogs and some of the models come in pretty pink or blue.
The double-door dog crate is a great option if you want a crate that ensures your dog is not only safe and secure but is comfortable as well. In addition the metal crate is easily foldable, making it simple to transport. It also comes with a divider panel included. This allows you to use the same crate for a growing dog, adjusting the living space as your puppy grows older.
You can keep it small enough that your pup won't be tempted to use one end to do its business. At the same time, you can retain the ability to increase the size as she grows older and bigger. The crate also comes complete with roller feet to protect your floors from being scraped by the movement of the metal.
The crate is available in a variety of sizes, and the medium size crate is perfect for dogs. This makes clean up much easier for you.
---
Why Use a Crate
Training – Crate training is a popular way to train a puppy or even or potty train their shelter dog who maybe an adult. While other some parents prefer other methods to to teach their dog. However, if you decide against crate training you may not feel that a crate is necessary for your needs.
Travel – Just because you may not want to use this method a dog crate can come in handy for other purposes – transport. Crates are a great option when you're traveling long distances and have your dog with you. The right crate can reduce any travel related anxiety and tension your dog may feel.
What to Consider When Choosing Crate for Medium Dogs
When choosing a crate, there are several considerations you will need to keep in mind. These include:
Materials
Dog crates are available in a wide range of materials. So beside picking the best crates for medium dogs. You will need to choose which is the right option for your and your pet's needs.
Options include:
Metal: These are usually wire cages that provide great airflow and visibility that allows your pet to take in his surroundings. However, metal can rust over time, and open visibility may not be great if your pet prefers its privacy.
Wood: Durable and long-lasting, wood is perhaps the best option when it comes to aesthetic crates. However, these crates can be expensive. Furthermore, they are usually not collapsible, making it challenging to travel with them. Additionally, if you use the crate for crate training, you can expect the wood to take significant damage due to chewing and scratching. Finally, you will have to be very careful about the wood you choose, as some options can be dangerous for animals.
Plastic: Perhaps the most common option when it comes to dog crates, plastic is common when looking for crates for travel and transportation due to its portability. It is lightweight and easy to clean and is difficult for dogs to escape from. However, you will have to be careful to choose an option that has adequate airflow. Also, plastic will need to be cleaned more often to ensure it doesn't absorb smells.
The type of crate you choose will depend on:
Age of your dog – do you need a crate that will be big enough for your growing puppy, or is your dog fully grown?
Reason for buying a crate – Are you looking to travel, crate train, or do you need an option you can keep in the house?
Does your dog prefer to see his surrounding, or prefer his quiet and privacy?
Do you need a portable crate?
Style and color of a crate?
The answers to these questions will help determine the type of crate you buy.
Size of the Crate for Medium Dogs
Size is one of the most important things to keep in mind when it comes to choosing a crate, especially if your dog is on the medium to large size. While smaller pups can manage in large crates, the opposite is definitely not true.
This is, perhaps, the most important considerations are:
Tall for your dog to stand up comfortably
Wide enough so he can turn around fully
Long enough so your pet can comfortably stretch out and relax
If your dog is a medium breed, you need to choose a crate that matches these needs. Keeping your pet in a crate that is too small is extremely uncomfortable for them. Not to mention cruel and hazardous to a dog.
At the same time, make sure you choose a crate that meets your needs. This include making sure travel crates are portable, easy to carry. Furthermore, make sure the crate you choose meets your specific usage requirements. For example, if you want a crate to fly with, you'll need a completely separate option than if you need for a crate you can leave your pup in while at home.
When to Avoid Using a Crate
It's important to note that not every dog will do well with a crate. For example is a dog has suffered abuse or incorrectly confined then it is only natural that they may be fearful around crates. If you suspect this is the case with your rescue dog, shelter dog, or from any abusive circumstance there are other options for training your dog. Another great option is using anxiety vests for your dog.
Concluding the Best Dog Crates for Medium Size Dogs
There are plenty of crates on the market and in a variety of prices to suit the your requirements. The above overview is a guide to choosing crates for medium dogs. The first thing you is to decide on the main goal for a crate. The next step is to pick the right size for your dog comfort.
Keep in mind that each brand may vary in size. So whichever you choose make sure to follow the manufacturer's size chart. This way you will get the perfect size crate for your medium dog!