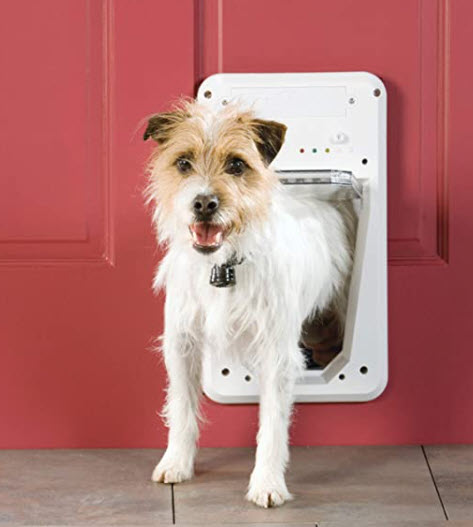 Collar Activated Dog Doors (And Other Top Picks)
Wondering what type of dog door to get? Today we talk about the best collar activated dog doors, and a few other styles such as magnetic doors and screen doors for dogs.
Are you tired of always opening the door for your dog whenever he wants to go out and get in the house? Or maybe your pet tends to wake you up by pawing at your door whenever he wants to come in, and you have to repaint the door.
See the Quick Guide Chart for Collar Activated Dog Doors
| Dog Doors | Quick Description | Buy |
| --- | --- | --- |
| | Smart Door, programmable for upto 5 pets. Exit and auto-locking options for PEACE OF MIND | Buy on Amazon |
| | Chip Activated Dog Door. Uses RFID to read pet's implanted ID microchip without letting in strays; programmable collar tags sold separately for pets without microchips. | Buy on Amazon |
| | Motor driven vertically-sliding door is activated by MS-4 ultrasonic collar. Secure and weatherproof! | Buy on Amazon |
| | Peace of Mind with the Collar Activated Dog Door in 2 sizes. Battery operated and programmable selective entry, exit and auto-locking options waterproof SmartKey worn on the collar | Buy on Amazon |
| | SmartDoor works with battery operated SmartKey (1 included: Placed in the battery box) worn on your pet's collar, Electronic lock | Buy on Amazon |
Well, you don't have to worry anymore because installing a pet door is a thoughtful idea to your home because it solves the problem of opening the door for your four legged best friend. But in the modern world, people want a sedentary way of life that involves using smartphone applications, remote control and other advanced technologies to replace manual activities.
That's when you need to get a smart pet door to save you from this headache of opening and closing the door. If you acquire it, you get minimalism, safety and convenience in one device. The best collar activated dog doors can help you monitor your dog's behavior; bringing a new caring experience towards your pup.
7 Best Dog Doors Collar Activated and Others!
This article reviews some of the best smart pet doors available on the market. It highlights not only some of the best devices but also versatile products. Each product reviewed has relevant pros and cons. Here are the 7 best app controlled dog doors.
1. SureFlap Microchip Dog Door for Small Dogs
If you want your dog to go in and out freely without any disturbance, buying a SuperFlap Microchip Dog door is the best addition. It is perfectly designed to help you control your pup from your comfort zone. Are you eager to know some of the best features it has?
Now, the good thing about this smart door is that it's capable of storing relevant information of over 30 pooches up to 20 microchip signatures. So if you have multiple dogs, you'll find this smart model extremely helpful. The 4-way manual lock provides maximum security and is compatible with any locking mechanisms.
Sureflap tags that are compatible with Sure Flap Dog and Cat Doors on Amazon
It uses an identification microchip that you implant on your pup's neck. It uses RFID to scan the chip for entry, allowing your pup to access your house freely while preventing stray animals. For proper clarification, connect the chip to the hub and your residence router that integrates with a smartphone app.
You can also fix the microchip on your dog that sends strong signals towards the sensor on the door. The sensor recognizes the dog and allows it to get in. You can also set a curfew time for your mutt. All you need to do is to ensure that you program the SureFlap pet door to unlock and lock at a definite time.
Watch the Video for the Sureflap Door for Smaller Dogs and Cats
SureFlap prevents unchipped and unrecognized pups from entering your house. Nevertheless, it can't stop them from going out. This app-controlled dog door is the best option if you value your comfort and peace of mind.
Pros:
Durable and resilient batteries
Attractively simple and contemporary design
Easy to install
It comes with a 3-year product warranty
Cons: Only suitable for small dogs and their feline friends
---
2. High Tech Collar Activated Dog Doors for Medium and Large Dogs
Available in 2 sizes, the medium for dog up-to 30lbs and the large accommodates large dogs up-to 100 lbs.
Is your pup hesitant to get through the new smart door? Then High Tech Electronic Door is the perfect option for you. This app-controlled dog door is highly convenient because it can keep your dog and house securely without compromising its functionality.
It has 4-way access controls to choose from; full access, out only, In-Only as well as Closed & locked settings. So it's upon you to decide which command you want to initiate. When your dog approaches the door directly, the directional sensor opens it automatically while keeping intruders out.
The optional wall on this smart door simplifies the installation process; it makes it pretty much straightforward. Your dog cannot get hurt because the top of the door is always open. The airtight seal makes it both weather and windproof, while the automatic deadbolt lock mechanism for additional maximum security.
The auto-safety retract feature makes the door open when your pup reaches about 10 feet away from it. It comes with an AC adapter of 110V; you can plug it in any available power outlet. Nevertheless, it works perfectly with durable rechargeable backup batteries, which you have to factor in their cost.
Pros:
Airtight seal makes it weatherproof
Automatic deadbolt lock technique
4-Way control mechanism
Simple to install
Resilient backup rechargeable batteries
Cons:
The door's appealing colors may fade with time


---
3. PetSafe Electronic Smart Door 
PetSafe Electronic SmartDoor – Collar Activated Dog and Cat Door 2 Sizes for Small to Large Pets
A roaming dog that returns late in the house can disturb your peace. He can make you stay up for quite along. So which brand can help you solve this problem once and for all? That's none other than PetSafe, a reliable brand with a reputation for producing high-quality products such as PetSafe Electronic Smart door.
This door features a programmable selective exit and entry equipped with an auto-locking technique. It's compatible with a waterproof Smart Key on your dog's collar. It allows free entry and exit if only your pup wears the collar.
It is portable and lightweight, weighing up to 5 pounds. Moreover, you can adjust its trigger range up to 3.5 feet. It is easy to install because it comes with a comprehensive manufacturer's manual, especially on the walls, doors, etc. The lock feature locks the pet door automatically after your mutt enters the house.
PetSafe Electronic Pet Door is compatible with five varying waterproof and submersible smart keys so that multiple dogs can access it. It uses Radio Frequency Identification (RFID) with critical fobs that send signals to the door sensor. The door is highly efficient due to its durable and robust battery.
Pros:
Simple to install
Adjustable trigger ranges up to 3.5 feet
Relatively quiet
Suitable for both small and medium-sized dogs
Cons:
Not ideal for extra large dogs


---
4. Endura Flap Wall Pet Door
Another super quality product worth mentioning is the Endura Flap Wall door for dogs. This is not just an ordinary flap to place on your door; instead, Endura Flap is constructed to provide excellent insulation.
It has some incredible features, and your mutt can enjoy the freedom of going in and out without your assistance. This device is easy to use, and it covers all your needs, especially the quick sizeable flap that works perfectly for your small-sized canine friend. It's highly operational, energy-efficient and safe.
The door is ready and simple to install straight out of the box because it contains detailed instructions. You can install it on a wall with a thickness of up to 8 inches. In addition, the patented energy prevents energy loss when the temperatures are below 40 degrees (F).
It has an adjustable three-sided magnetic design for training timid mutts while providing extreme strength to keep the strong winds out. The flaps stay shut in gusts while at the same time the secure lock technique covers it when your pup is not using it.
It's made of a premium quality aluminum frame and robust interior wall tunnel for enhanced durability and additional security. The flap is non-toxic, safe and recyclable, and it can sustain cracks due to colds. It comes with a 15- year product warranty.
Pros:
Ready and straightforward to install
Available in different sizes
Made of durable and robust aluminum frame
Magnetic design for controlling the timorous pups
15-year warranty
Cons:
The door has significant gaps
Some customers find it hard to install despite detailed user manual


---
5. Ownpets Dog Screen Door Magnetic Dogs Doors for Screen
Ownpets Dog Screen Door is another quality product you can get for dogs who want their freedom. It'll give you the break and comfort you deserve from the constant disturbance of opening the door. It's considered to be the best due to its convenience and design for screen doors.
The door has an in-built magnet that keeps it automatically closed after your pooch exits. You can also lock it during the night to prevent other critters from intruding on your home. It's conveniently designed to work with your smartphone to allow free entry and exit for your mutt.
It has an extraordinary construction unit. The Ownpets pet door is made of high-quality and durable ABS material. It's reinforced with a screw that makes it extra strong, durable and unbreakable. It comes with a comprehensive user manual that makes it easy to install on your own.
Another feature worth mentioning is that it is quite versatile, which means that you can mount it in different places such as windows, doors or walls. It's also suitable for small and medium-sized pups. So it scans the dog any time he enters and leaves the house.
Pros:
Highly convenient pet door
Automatic closing, magnetic and lock mechanism
Made of strong and durable materials
It's easy to use as well as install
Cons:
Malfunctioning of the screen
Not ideal for large dogs
6. RuffWeather Pet Door for Large Dogs Door Entry or Wall Entry (All Sizes)
Ruffweather dog door is another top-selling device; it comes in varying sizes depending on your dog's size. This robust construction unit is made from solid and adjustable vinyl, a durable frame, and transparent plastic materials.
This weatherproof dog door is perfectly designed with a transparent flap made from solid and resilient Lexan. So it's designed to suit pups weighing up to 120 pounds. The structural foam delicate plastic frame can adapt to doors of varying thicknesses.
You should note that this model is specially designed to yield sufficient energy. This is possible because experts developed and there all all sizes to fit your dog perfectly.The product is simple to install, and once it's functioning, it can work perfectly in an energy-efficient manner.
This app-controlled version gives your mutt confidence to access the door frequently due to its convenience. It comes with a weather seal and nylon window stack; the vinyl flap is extra energy-efficient and can create a thick pocket for excellent insulation.
Pros:
Simple installation instructions
Vinyl flap for maximum insulation
Adaptable structural foam plastic
---
7. Armor Flex Air Tight Pet Door Magnetic (not Collar

Activated) for Large Dogs
The last product on the list of the best app controlled dog doors is superior quality Armor File Air Tight. This model gives your pup free entry and exit, giving you the deserved peace of mind. It has a lot of incredible features that can be of great help to your pup.
It comes in different sizes; large, small and medium. It's designed for easy installation because it comes with a feasible installation manual. It's also an energy-efficient version because it's hermetically sealed to resist harsh weather conditions. This makes it highly safe for your pup because it won't scratch his back.
The frame is made of strong aluminum meant to last for a long time. It has a magnetic latching system that automatically closes the door after your dog passes through it. Overall, it gives you a high level of convenience, comfort and safety; that's why it's worth acknowledging.
Pros:
Energy-efficient model
Safe for your pooch
Magnetic latching system for enhanced security
The frame is made of solid aluminum
Cons:
You should check the magnetic security feature constantly to prevent malfunctioning
---
Factors to Consider When Buying an App-Controlled Dog Door
What makes a smart dog door extremely great? Now, before you make any decision to buy one, you should know some of the excellent features that the door needs to possess. There are varying designs on the market; instead, the goal is to review a model that can provide maximum security and safety for you and your pup.
This type of door has different control modes such as smartphone, ultrasonic or RFID. So, let's take a look at some of the fundamental features it should have;
Maximum Security
The first important thing you should consider is the security of the pet door. You need to understand how to securely lock it as well as can set curfew times for pup. Moreover, you need to get a version that enables you to let him out without allowing harmful critters into your house.
Most of them use electric collars for communication when your mutt is close by. This is highly essential because you won't be available most of the time to monitor it. The aim of considering security is to give your mutt the deserved freedom and peace of mind.
App-Control Vs. RFID (Radio-Frequency Identification) Dog Door
There are lots of names for 'electronic' type collars, so we feel as though it is important to touch on the difference between RFID collars and app control. Because not every door comes with a collar. That is the RFID aka radio frequency collar identification option uses microchip within the collar to communicate with the door.
In most cases, the RFID does not require an app to be operative. The nice thing is that the door simply recognizes the collar when the dog comes to it so they can come and go as needed. With an app control that doesn't have RFID compatibility, everything will be manual or will need the app for operation.
With this said one is not necessarily better than the other. And it simply depends on your preferences as well as your needs. We just want to be sure that you understand the difference between RFID collars vs. app-controlled dog doors.
While some packages have both of these pieces, not all of them do so it's a good idea to understand the differences.
Size of the Door
This is another feature that you shouldn't overlook. The size of the pup's door in relation to his size matters pretty much. You'll realize that there are varying sizes that are inconsistent from one brand to another.
Take your dog's measurement and choose a door that he can fit perfectly without any hassle. The challenge comes when you have a small pup, but the door is heavy; it's tough for him to open it. Nevertheless, you don't have to about the size if you are using an app-controlled pet door. But choose a door of the correct size.
Microchip Collars
The best thing about an app-controlled pet door is that it only lets your pup in. But what if you come home in the evening from work and you find your dog arguing with unwanted animals such as wild cats?
Smart doors come with high-sensitive sensors with RFID signals. You should ensure that the microchip collar's RFID information matches that of the pet door. Then you'll be able to open and close it as you wish. And you won't be worried about the intrusion of unwanted critters. Many doggy doors work with tags that you can attach to your dog's collars should they not have a microchip.
Installation Process
Lastly, you need to consider the simplicity of the smart door installation, such as the time and tools required. Read the manufacturer's manual regarding the installation process. In addition, you can gather information from customer reviews so that you can be ready for any anticipation.
Some might be challenging to install, so you need to be well prepared. You can also rely on online tutorials so that you can be well acquainted.
Concluding Best Collar Activated Dog Doors
Several app-controlled dog doors are available in the market. So when you are out shopping for this type of model, ensure you conduct thorough research to fully understand how various models work. You need to know the systems your model uses for communication as well as other essential features.
However, you should also focus on the relevant aspects such as security, cost, quick installation and durability. And again, ensure that the smart door you select fits your pup perfectly, in short size matters a lot. Remember that the choice of purchasing the best app controlled dog door is yours to make because you will enjoy all its benefits.
You are just a click away towards maximum safety and comfort. You don't need to get out of your comfortable couch or bed regularly to open the door for your pup. So this comprehensive article about the best app controlled dog doors can be beneficial in your endeavor.