No Pull Tiny Dog Harness, Lightweight Soft Adjustable No Choke Escape
If you are looking for a no pull small dog harness then check this one out. It is super cute and it comes with a matching leash and available in lots of cute colors. 
🐶 This article may contain affiliate links, at no extra cost to you, and we thank you for your support. 🐾

Do Tiny Dogs Need a Harness
Just because your dog is tiny doesn't mean they won't pull. And when they tug on a harness they can hurt themselves. Collars are ideal for around the house, while a harness gives support and is a choke free way to walk your small dog. Plus a good harness can offer small dogs security and safety.
Small dogs require harnesses that do three specific things very well:
Harnesses That Keep Them Safe
While you won't need a special harness to prevent your Yorkie from dragging you around, you do need to ensure that the harness is strong enough to work when you need it. That last thing any dog parent wants is to find yourself looking at your tiny pup running off into the distance because the harness broke.
Well Fitting Harnesses for Tiny Dogs
A sloppy loose harness is not comfortable for tiny breed dogs. Nor will it help to keep them secure. A good harness for tiny dogs needs to fit well and properly accommodate their body shape. They also need to be made with comfortable fabric to avoid rubbing and chaffing their skin or rubbing or tangling their fur.
Obviously, you need a small harness for a small dog, and this can be tricky for those with miniatures size dog or other ultra-tiny canines. But aside from being suitably small, owners of pugs and a few other wide chest breeds will need a harness that can accommodate their unique dimensions and avoid pulling on their neck.
Stylish Harnesses for Extra Small Dog Breeds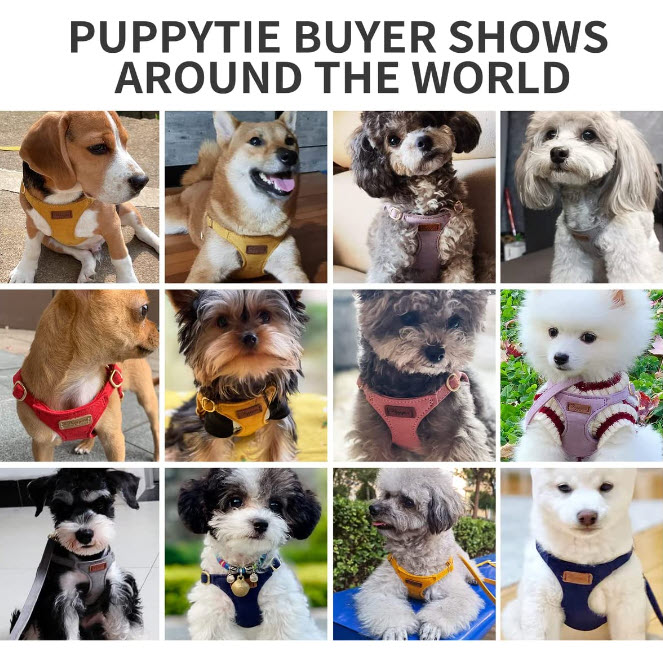 Above is a line up of tiny dog harnesses by Puppytie on Amazon <<
Tiny dogs and extraordinarily style go hand in hand. Pet parents love their dogs and take pride in how the tiny canine looks. Whether it's the latest fabric, beautiful colors or bling and sparkle there is no need to compromise when it comes to picking the best harness for your tiny dog.
Scientists have long known that small dogs become 38.5% healthier and 72.8% happier when festooned in the fanciest of gear. For some dogs, this means lots of sparkles and flair, but others are content with simpler, yet still fashionable, styling.
Lightweight, soft and adjustable this no choke and escape proof harness is ideal for extra small, small and medium dogs. Plus its super stylish and comfortable for tiny dogs. 
Harness for Tiny Dogs in XXS
Weight as low as 1.19 oz,undoubted ultra-light harness.Perfect tailoring design,patented rounded adjustment buckle,effectively protect the dog's bones and muscles during exercise to avoid injury.
Comfortable high-quality dog harness:Puppytie's dog harness uses a soft and breathable low-sensitivity baby-specific fabric to protect the dog's skin.Exquisite hardware that does not deform or fade, water-proof and rust-proof, demonstrates high-end quality
About Puppytie Dog Harnesses for Tiny Dogs
Puppytie is a top leading brand of high-end pet products with original personality. All products are in gift packaging and can be returned and exchanged within 30 days without any reason. Professional customer service will provide you with size consultation and after-sales service 24 hours a day. We look forward to your suggestions and opinion.
In addition to their cute harness for tiny dogs the Puppytie harness comes with a multi-functional leash, which can be adjusted in two lengths of inch and 37 inch. The function of wait in place allows dogs to wait in place quickly and safely
Harness for Tiny Dogs in XXS
Even tiny breed dogs can wear this little harness and leash combo. One tiny dog owner writes how she loves this little dog harness. 'The XXS is the perfect size for my yorkie. We got it when she was 3.5 pounds and it fit perfectly. Now she is 4.5 pounds and she still has room to grow a bit (though I doubt she will get much bigger).
The quality of the materials is very nice and I think it's a great value. I love that it's easy to get her to step into it. There is no over the head piece to struggle with and it makes getting out the door simple and fast.
>Visit the Line Up of Puppytie Harnesses for Tiny Dogs on Amazon <<
Recommends: Best Dog Training Program
Our favorite: The Dunbar Academy Training Program. If you want a happy and obedient dog, this is one of the best online dog training programs available today!  You can get the first month free using dunbar.info/RescueDogHappiness <
We also created a QR Code for you to use as well, you can download the image below to share it.