Tips for Training a Medium Size Rescue Dog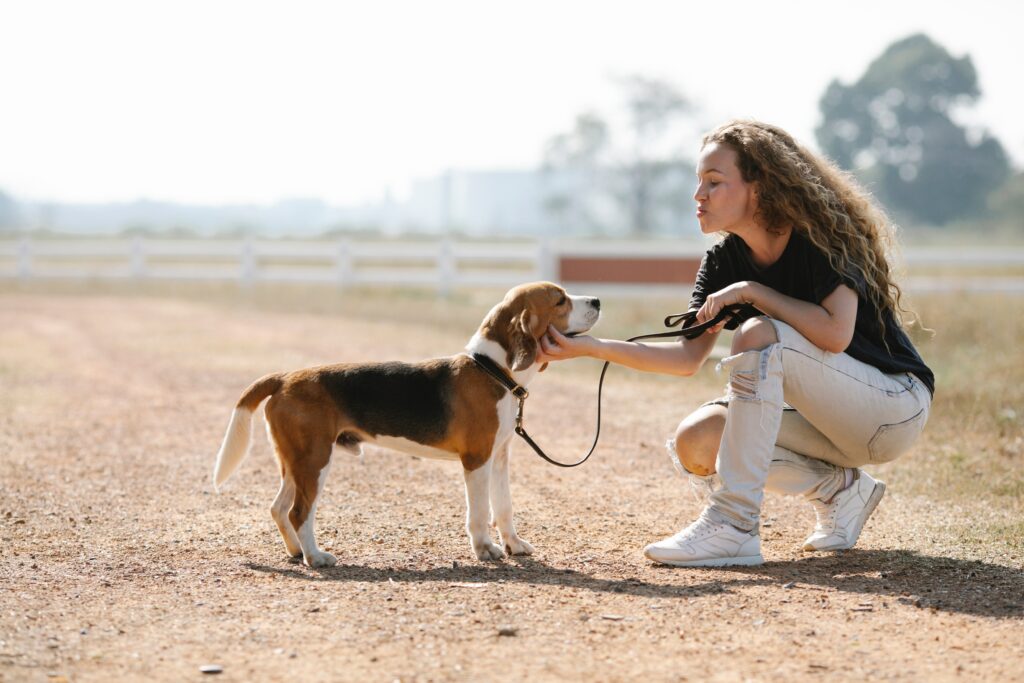 You adore your new rescue dog, and all you want to do is spoilt her. But failure to start training your pup especially as they grow and gets stronger. Today we talk about training your medium size rescue dog to help keep them safe and happy!
🐶 This article may contain affiliate links, at no extra cost to you, and we thank you for your support. 🐾
When to Start Training Your Medium Size Rescue Dog
Everyone who has a small, large or medium dog will eventually have to deal with and correct any less than desirable behaviors. Instead of putting off training its best to teach your dog as you mean to go on. Early training is both easier for you and your dog as learning will become second nature.
Below is a few behaviors to nip in the bud when a dog is young, some of which include:
1. Jumping Up on People
Puppies are playful and love to jump. And often this is one of those behaviors that many dog owners inadvertently encourage their dog to do. their animals, since jumping up, wagging his tail and the like can be adorable in a young puppy.  When that puppy is older, larger and heavier, however, this jumping up behavior ceases to be cute and begins to become annoying and even dangerous.
Above is a no pull harness available in lots of sizes and colors.
Prices on Amazon
A large, or medium dog jumping up on people can be dangerous to young children and even to some adults, since a large, 100 pound plus dog can easily knock down a child or small adult.  Since you as the owner are responsible for the behavior of your dog, it is important to nip this problem behavior in the bud.
The best time to train, of course, is when the puppy is still small and easy to handle.  When the puppy jumps up on you or someone else, gently place the puppy's feet back on the floor. When the dog remains standing there, be sure to praise it extensively.
It is also important to give the puppy an alternative to jumping up.  Puppies jump up on people to express their enthusiasm, so it is important to redirect this energy in a more socially acceptable direction.  Try teaching the puppy to present his paw instead of jumping up.
When teaching the puppy to not jump up on people, it is important to be consistent.  Consistency is important in any training program, and all members of the family must understand that the puppy is not permitted to jump on them.
2. Pulling, Charging and Tugging on a Lead
If your dog is pulling, charging and tugging it is important to teach your dog to use their collar or harness as soon as possible. It is easier when they are small and light enough to handle. Teaching a 8 pound puppy will be much easier than training a medium size rescue dog or teaching the same lesson to a 130 pound large breed dog.
Using a good strong body harness or head collar can be a big help when training a puppy not to pull, or to retrain a dog that has already learned to pull on the leash.  When first fitting a harness, it is important to allow the puppy to walk around wearing it, so that he can get used to wearing it.
3. Teach Your Medium Rescue Dog to Heel
The first thing your puppy must learn, and the basis of all subsequent training, is teaching your dog to heel. Teaching your dog to walk quietly at your side on a loose lead is the basis of all dog training. Once your dog has mastered this vital skill he will be able to move onto more advanced training.
When walking with a puppy on a leash, it is important to always keep slack in the leash. If the puppy begins to pull on the leash, it is important to redirect the leash in the direction you wish to go.
The leash will be loose except for the split second it takes to change directions. It is important to give your dog a gentle yet firm  tug on the leash, followed by an immediate loosening it.
When teaching your dog to walk properly, it is important to never allow them to pull you around, or pull ahead on the leash. Allowing the dog to to do so will send the wrong signal. And it will be more difficult to correct them when you decide training your medium rescue dog become difficult.
Start Training as Soon As You Adopt a Dog (As They Acclimatize)
When you adopt your medium size rescue dog you'll need to help them settle into their new environment. Introduce them into calm so they can meet their new family including other pets in the home. Creating a schedule will help your dog to adapt and begin learning about their harness, potty breaks and where they will eat sleep and so forth. Be patient as they adjust as you gently begin teaching them basic commands that will help with their confidence and keep them safe too.
Tips When Traveling With Pets
Traveling with a pet is a rewarding experience, yet it is important to keep in mind that a little preparation can go a long way toward keeping animals comfortable on the road. In addition to searching for pet-friendly lodging and transportation options, pet owners will want to plan ahead for their animal's potential needs. Whether a person is traveling by train, plane or automobile, these tips will cover everything necessary to ensure smooth travels with one's animal companion.
Concluding Training Your Medium Rescue Dog
If you are planning to extend your family by getting a dog, then it is important to consider their size. Many people choose medium size dogs due to their size and they tend to be ideal for those who are active. Start training your medium size rescue dogs early and  both you and your adopted dog will reap the benefits.
Not only will they be a pleasure to take with  you everywhere, but training your dog properly will help keep them safe too as they heed your recall and commands.
Recommends: Best Dog Training Program
Our favorite: The Dunbar Academy Training Program. If you want a happy and obedient dog, this is one of the best online dog training programs available today!  You can get the first month free using dunbar.info/RescueDogHappiness < We also created a QR Code for you to use as well, you can download the image below to share it.