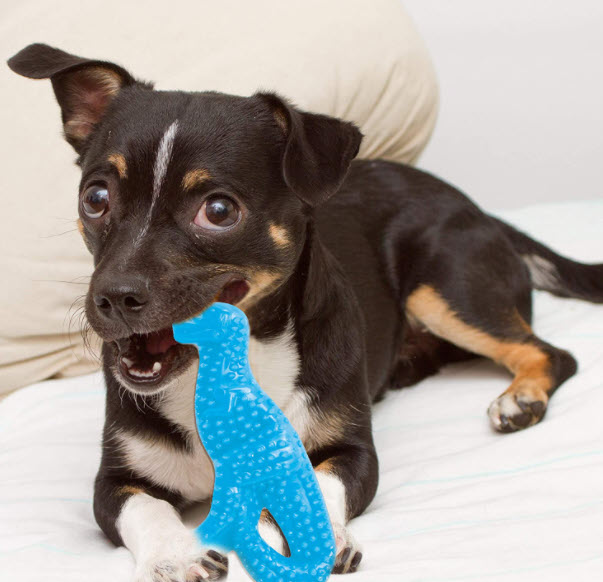 Best Toys for Teething Puppies
Your tiny canine terror is teething and it's a painful process. To help them get through this puppyhood stage the best teething toys for puppies will give comfort while they are cutting their adult teeth.
Ready to buy a teething toy? Like the dinosaur in this article… or, See the quick chart below
| Teething Chew Toys | Product | Buy |
| --- | --- | --- |
| | Rubber, Interactive Chew Toys for Small Dogs and Teething Puppies. In Small, Medium & Large | Buy on Amazon |
| | Chewy Rubber Toy, Stuff with Treats, Soft Nubs for Teethers. Small, Medium, Large Chewers | Buy on Amazon |
| | Small to Giants Dogs and Puppies in Chicken, Peanut or Bacon Flavor. Made in the USA | Buy on Amazon |
| | Ropes, Squeaky Toys for Small to Medium Pups. 3 Stuffy toys in the set to choose from | Buy on Amazon |
| | Tiny and Small Dogs or Teething Toys for Puppies. Rope, hard plastic and a snuggly plush toy | Buy on Amazon |
| | Kong Treat Dispenser Toy for Teething and Fun Play for Puppies and Dogs. In Small and Large! | Buy on Amazon |
Quality puppy chew toys are an excellent way to help your puppy relieve teething discomfort. On top of that, chewing is actually a natural habit and basic function for all dogs, that they learn as puppies.
From puppy to adult dog most dogs will continue to enjoy a chew toy. And chewing is a natural way to give them comfort. In addition chewing is also a means of keeping their teeth clean. So get them started on toys that help with their dental care now and in the future.
In this post, I will discuss best toys for teething puppies available in the marketplace. And I review them to give a few pointers so you will be able to make the best choice when choosing the top toys for teething puppies.
Puppy Teething Toys
There are some pretty tough toys in the market but nothing matches the strength of a canine's teeth. So even though there many will state they are made for tough chewers on indestructible – there is really no such thing. So be prepared to try out several strong toys before you settle on the best for your pupper.
Not sure how to purchase the most suitable or perhaps the the best quality puppy teething toys for your pupster? Then here are some ideas on how you can choose the top one for your pup.
5 Best Toys for Teething Puppies in Review
Benebone Wishbone Real Flavor Puppy Chew Toy
Keep your pup engaged and active with Benebone Wishbone Real Flavor Puppy Chew Toy.  It comes in 3 flavors to keep a picky chewer happy. It's durable and long lasting and even tougher than real bones.
The wish bone shape chewing toys has smooth edges. It's easy to pick up and hold in his paws.This toy is a great way to satisfying a pup's natural impulse to chew. In a flavor and with a smell that's irresistible for your puppy friend.
It has deep grooves that allow puppies to have a decent bite and improved surface area intended for improved flavor and scent. Real flavor and real ingredients – made with extremely robust nylon and even 100% bacon meant for irresistible scent and flavor.
Benebone is made in the USA and a toy to put on the top of the list. The ergonomic chew is a top-selling product among dog parents in America.
One more unique thing about this Benebone toy is it's made with powerful and real tastes like bacon, peanut, butter, and chicken, which means this toy for chewing will keep your dog entertained all day long.
Pros:
Variety of dog treat flavors
Durable and tough material
Curved shape for pup to hold and chew
Cons:
Kong

Gyro – Interactive Treat Dispensing Dog Toy
When dog owners think of tough chewing dog toys it's likely that the Kong name come first to mind.The above toy not only has a chew band around the edge but it will entertain your puppy as the gyro toy moves around. For extra puppy fun you can fill the gyro toy with treats which makes it even more exciting the puppies parents.
The Kong Gyro comes in two sizes so you can choose the best size for your puppy.
On the other hand, the particular design of this toy will cause that to bounce and makes this fun for indoor and outdoor games of fetch. The toy is also gratifying while interactive for the puppies as this can be filled in with kibbles and treats.
Check out the line of traditional Kong Toy Shop on Amazon that will serve as the best teething toys for puppies and all the way through to adulthood.
Pros:
Mentally stimulating
Entertaining and engaging
Stuff the toy with treats
Cons:
Nylabone Teething Toy for Large Puppies
This Nylabone toy features a variety of textures and designs. So it's guaranteed to keep puppies actively chewing. There is something new for puppies to discover and you can brush with a little peanut butter to make it extra tasty. And since it is made of long-lasting nylon, the chewing toy will take some tough chewing without falling to the shreds in the first couple of days.
It is designed for the aggressive chewers, therefore it will assist teach your puppy good chewing behaviors rather than chewing on the shoes or stepping into the garbage. It is available in several sizes for various breeds, as well, and it will be ideal for assisting clean the teeth as well as keep them nutritious inside as well as outside.
Despite having different textures, this Nylabone Chew Toy is one that is as near to a genuine bone as is possible. It appears to be incredibly durable, therefore even if the pup chews continuously on anything, it is about to be an excellent choice for both your pup and you.
Pros:
Tough and durable
Satisfies the natural urge to chew
Promotes dental health
Cons:
You have to clean this often


---
Best Freezable Teething Toy for Aggressive Chewers
You can freeze this non-toxic NWK puppy toy to give hours of cooling relief for puppies who are teething. The thick ring is made of 100-percent purified water, making it safe if your tough teether bites through. It's received top rating as reviewers note that the durable ring was able to withstand even the most aggressive chewers.
Pros
Non toxic freezing toy
Safe for puppies and dogs
Soothing on puppies teething gums
Cons
---
Nylabone Durable Chew Toy For Large and Extra Large Breed
The Power Knuckle chew comes in 3 different tasty flavors, such as turkey and chicken. The big dog chew is made for large breed puppies and dogs that weigh greater than 50 lbs. So it's ideal for your giant teething puppies that need relief when he needs it most.
This toy is manufactured in the U.S.A and is approved by FDA, which means 100% risk-free for your puppy. This is particularly known as dog toys for aggressive chewers, and continuous use of this will discourage the destructive chewing. This product is manufactured from durable and tough nylon for keeping the chewer busy of your family for a longer time.
Regardless of the kind of taste you select, this toy is going to be ideal for the teething puppy to make the gums and teeth stronger and prevent pointless chewing of furniture, shoes and other things throughout your house.
Pros:
Manufactured from tough nylon
 Available 3 lengths and styles
For extra large puppies and dogs >50 lbs
Cons:
A few customers report that the big chew toy is not interesting enough for the puppies


---
Choose Toys Which Are Tough But Soft Enough to Chew On
It is essential to select a chewing toy which is tough enough to withstand a good chewing on. But one that he can get his teeth into so it will provide sufficient pain alleviation. If the toy is too solid and he can't get a hold of he is likely to quit and find something more satisfying. But the toys must be tough enough so that it lasts long enough to bite on to give some teething relief.
Choose Toys Without Small and Crackable Pieces
Toys that are small and have pieces that can crack off are choking hazards. Pups and any dog for that matter is prone to choking if a toy is not large enough or made with sub standard material.
Buy Interesting Teething Toys for Puppies With Shapes and Texture
Just because your puppy doesn't enjoy one type of chew toy doesn't mean he won't love another style.Therefore, pick a number of toys for chewing which is available in different textures and shapes. There are that you can stuff treats in which encourage them to chew. And some will have little nubs and soft edges that helps soothe your puppies tender gums.
Get The Right Size Teether Toys for Your Pup
It is actually self-explanatory. It goes without saying that a Pug puppy will possess a smaller size mouth compared to Labrador. Both are pups yet they possess different mouth sizes. For that reason, choose one which is suitable for your pup breed. Most teething toys are available in various sizes, and if you're ever in doubt, opt for a larger rather than small size toy for your pups safety.
Types of Toys for Chewing Puppies
You will find a variety of toys for chewing which can easily lay claim for being the perfect for pups. Unfortunately, this does not make picking any easier. In this article, I will show you different kinds of toys which are used commonly as the best puppy teething toys.
Natural Rubber Toys for Pups
These are usually epitomized by products manufactured by KONG. On the other hand, the materials utilized are almost indestructible. No matter how strong a chewer and chomper your pup may be, this will not be in a position to hole through the dense and tough plastic shell of KONG. Well, very rarely, actually.
Nylon Chews for Teething Pups
Similar to the rubber-built puppy chew toys, tough nylon toys offer exceptional strength and durability. Also, these are almost indestructible. Not to mention, Nylabone is popular for making such items. The only drawback is that they do not include a compartment which you can easily fill with goodies.
Rope Toys Thick and Strong
The main issue with these kinds of toys for chewing is that different materials may be easily pulled off and out from all the rope. Also, these may be swallowed as well as might enhance the probability of obstructing the gut. This also boosts the enticement of playing the tug of war with the pup that is yet not suggested at this phase in their life.
Interactive Treat Toys
Inherently these are made to give a considerably more interactive feel for your puppy. Treats are put in the toys for your puppy to use.
Selecting the best chew toy for the puppy indicates that you have got to select something which is both tough and soft, can offer a number of shapes and textures, will never crack into very little pieces, and can be also palatable to the puppy.
Concluding the Best Toys for Teething Puppies
Teething is actually a testing and tough period for both your puppy and you, but it does not must be same for your precious possessions as well.
With a little investment in a few of the top teething toys intended for pups highlighted above, it is possible to keep your pup's teeth on suitable items and far away from your home products.
The winner of this round-up of teething toys in review is Benebone Wishbone Real Flavor Puppy Chew Toy. It has all the best features perfect for your puppy. However, while us pet parents think we've made the best choice for our pup, our puppies make the final choice.
The best suggestion is to buy one or two of the best toys in a variety of styles, shapes and colors. In addition some puppers prefer stuffy toys so they can tug and play with over toys to chew on.
Selecting a good collection of the toys will keep your puppy happy and your home intact!