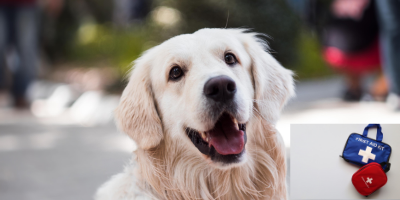 Best Dog GPS Tracker for Puppies and Dogs
Keep Track of Your Canine With a Dog GPS Tracker! Camping, cycling, hiking, moving to a new home, tracking a new puppy or maybe a senior dog whose getting a little forgetful?
Dog's are lost all the time, and it's terrifying when it happens. Using a dog tracker is a solution to give peace of mind: with a best dog GPS tracker to keep track of your dog at all times. Because time is of the essence when you're searching for a lost dog. So you can see why a GPS is a crucial device for dog parents and their canine friend.
To help you decide on the best GPS tracking device for your canine, we put together the best tracking devices on the market today!
Best Dog GPS Tracker Collars
Link GPS Tracker Collar in Leather or Sport – All Sizes
All you need to keep your dog safe, happy, & healthy.
The Link GPS tracker dog collar is naturally curved to fit the contours of your dog's neck. While being fashionable, durable, and waterproof. Tracking unit can be used with provided collar or on any collar widths between 0.5″ to 1.5″.
You can choose between the classic leather collar made with Italian leather that pairs perfectly with even the most sophisticated pups.
Or you can pick the Sport Collar made from a reflective fabric stretch sleeve, which is exactly what every active dog needs show off their athletic style.
It also works like other GPS location trackers. The Link, AKC Dog collar, features a default AKC application that helps with the dog's well-being. It also notifies you about temperature so that you can check any pet's real-time activity and record. And it comes in 2 different colors and 5-6 sizes.
The tracking collar is made of leather and the collars come in different sizes to fit your dog. And the GPS location and activity tracker have a tracking unit and base station.
Pros:
Easy to use with great accuracy
Easily detach and reattach the link unit to the collar of the GPS tracker
Durable collar with lots of capabilities
Cons:
Poor battery life (get dog activity for about 100-150 minutes)


---
Whistle Go Explore Dog Health & Location Tracker 
The Whistle Explore pet tracker is waterproof. So there are many benefits to tracking the location and health and fitness level of your pet throughout the day. It has many positive things about the tracker which you can do, so I'm going to tell you about it. This location and ultimate health tracker is basically like a Fitbit for pets. It tracks the health and nutrition of your canine as well tracking their location.
The monitor is ideal to monitor a dogs health activity levels and any issues such as calories, distance, and activity. Along with behaviors like licking, scratching, and sleeping to keep an eye on potential health problems. And you can get recommendations about things such as food portions on the basis of his activity levels.
Through the tracker, you can check
fitness level down to the miles that they've run or walk
monitors tons of health levels, evn how often that they're scratching
Waterproof GPS tracker
Features: It comprises a compact unit and a button on the backside. You can turn it off or on without taking off your dog's collar.
You can charge it because it has a USB charging unit. Tracker has excellent battery life. It has a 20-day battery life, which means you can use it for 20-days. So you can be confident that it will not die before you're able to get them or find where they're at.
The Tracker has a built-in night light and real-time GPS. You can set a safe zone, each and everything like that, after downloading the application on your cell phone. It spits out some guidelines for the dog to follow, like about fitness level.
Pros:
Accurate GPS with good battery life
Monitors health, distance
Real time GPS tracking
Cons:
PetFon Canine Tracking Device

No Monthly Fees
This is one of the best rated dog GPS tracking devices does not require a cellular network so that means no monthly fees. It's app control is a real time tracking collar that provide location, movement information and tracks down your dog's activity.
So this is an excellent option for those who travel with their dog. You can operate it and control activities, with a mobile application and pinpoint your dog's location.
It has the latest wireless technology. The PetFon is a real-time tracking collar device that also boasts three programmable virtual zones. This way you can set up a virtual fence that alerts anytime your dog goes outside of that zone. The application controls your dog to monitor your pet's activity.
It will show accurate results to pet owners. So every pet owner can easily track and pinpoint the pet activity. At midnight, the pet owner activates the colorful tiny light of the tracker and you can communicate with your dog with remote voice commands.
The GPS tracker is a rainproof device, and it has 8-16 hours battery life.
Pros:
Small and durable, rainproof with Real-time tracking
No monthly Subscription, so Free service
You can use and operate long-distance tracking devices efficiently
Cons:
Doesn't work in a rural area


---
Tractive LTE GPS Pet or Dog Tracker
Tractive LTE GPS Pet or Dog Tracker is an attractive gadget that uses the cellular network to triangulate your dog's position and to forward and receive a signal to your cell phone. The first tracking mode lets you know about the dog's location at regular intervals.The second tracking view is a live mode that allows you to see dogs' locations in real-time.
For this, you will need to subscribe to a paid monthly plan. You can review your dog activity through the app. It shows both regular interval positions with live position tracking data.
You can set the time frame manually. On the mobile app, you can check the battery percentage and check the GPS on or off.
It also has a feature to toggle the LED light and sound on the GPS Tracker. You can set virtual fences like other GPS tracker alerts when the dog has left a specified zone. The Tractive LTE GPS Tracker does not count dog's steps, but you can track the rest and calories activity.
Pros:
Well-designed and solid product
Great GPS tracker at a good price
Not an overpriced subscription plan
Cons:
It didn't work in the suburbs environment


---
Small and Light Tracki 2021 Mini Real time Tracker
The Tracki GPS is best when it comes to extensive coverage. The monthly fee gives unlimited long-distance monitoring. It has full USA & Worldwide coverage and this tracking device is ideal for dogs, family and possessions to keep an eye on their movement. It is easy to use with a magnetic small portable tracking device.
Unlike the others, Tracki's Mini Real-Time GPS Tracker offers customers unlimited long-distance monitoring on their lost pets' whereabouts. Accessible across the globe, know where your dog gets to no matter where you may be.
Not just for pets, easily track anyone and anything you attach the tracker to. A monthly fee is required, but a fair trade off for unlimited monitoring. Customer support is available with a representative 24 hours a day, 6 days a week.
---
What to Consider Before Choosing the Best Dog GPS Tracker
Here are a few things to consider when you're comparing dog GPS trackers…
Service fees  Free or Monthly 
Some dog GPS trackers make you to sign up for a monthly package in order to monitor your pet's movements in-app. Before you make a decision its important to get the contract details such as if it's a month to month or annual contract.
In addition if you are able to cancel the contract should your be less than happy with your GPS tracking service. Weigh up the pro's and con's before whittling down your list of best dog GPS trackers. Make sure the contract covers the locations in which you live or visit, such as rural versus city locations.
Waterproofing
Do you walk your dog by the beach, or how about living in a rainy place? If your dog comes into contact with water, you need to be sure that the GPS tracker you choose is adequately weatherproof or waterproofed to suit your requirements
Battery life of the GPS Device
You need to make sure that the GPS tracker you're looking at gives you sufficient battery life for your needs. Every dog owner is different. If you live in the city and only take your dog for occasional short walks, you won't need to place much priority on battery life. If, on the other hand, you frequently head out in the country with your pup, you'll need a GPS that keeps going all day long
Geofencing Limit Your Canine's Movements
Anyone who wants to create no go zones in the yard for their dog has more options than a wireless dog fence. You can utilize pet trackers with geofencing capability to build out areas you don't want your pup to breach. Then, if he heads out of this zone, you'll be alerted and you can subsequently track him for added safety
Tracking in Real Time?
You should make certain you can track your dog in real time. If you have several pets at home, you should also ensure that any GPS tracker will support multiple dogs. If not, it will work out an expensive proposition to kit out each dog independently. You also need to look at how you will track your dog once you're up and running. 
Price and Ongoing Running Costs
When pricing up pet GPS trackers, you need to look beyond the bottom line. Work out any monthly costs and make sure you're happy with this monthly commitment before proceeding to purchase
With all this said you should have a clear idea of what to look for when you're hunting for dog GPS trackers.
Concluding Best Dog GPS Tracker
GPS stands for global position system. These tracking devices are increasingly popular as they help keep our families which include our dogs safe. Many GPS trackers do double duty that track the health of your dog too. Keeping track of a dog will help keep them safe and at the same time giving their humans the peace of mind they need.